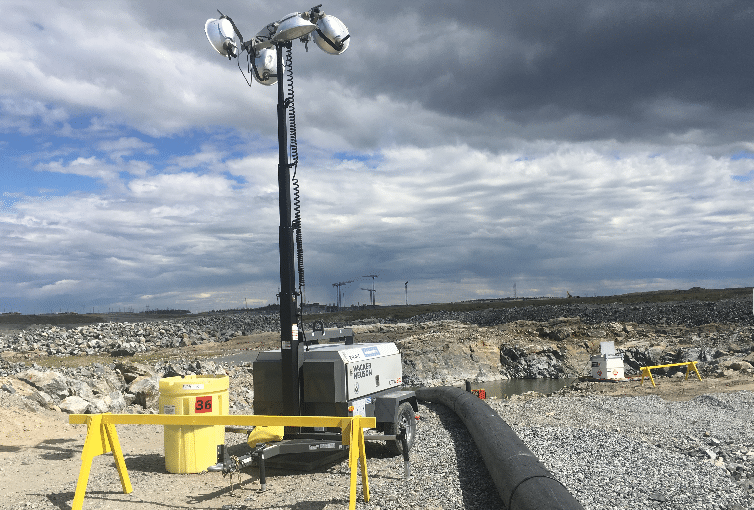 Light Tower for Construction Jobsite
There are dozens of industrial light towers available on the sales and rental equipment market.
With proper lighting being so critical to not only jobsite productivity, but construction crew safety, knowing what type of light tower to rent or purchase is not a nominal task.
When choosing the right tower for your industrial construction jobsite, here are some important factors to consider for each type of construction jobsite:
Congested Jobsites
When it comes to congested jobsite applications – such as events or crowded, tight workspaces, compact, narrow-body light towers are your best option.
Additionally, be sure to select a light tower with a vertical mast – not only do they take up less room than their horizontal mast counterpart, but are much safer to operate.

Axiom Equipment Group Equipment Expert Suggestion:
The Metrolite ELT-4320 LED Electric Light Tower is a nimble, compact lighting solution for congested jobsites. Its light weight makes it easy to transport onsite. Keep in mind that this light tower doesn't come with a generator, so you will need a power source onsite.

If a power source isn't available, and you need a light tower that will double as an auxiliary power source, the Wacker Neuson Narrow Body, Vertical Mast Light Tower is a great option.
The hydraulically-activated mast of the Wacker Neuson Narrow Body, Vertical Mast Lighting Tower collapses while remaining in the vertical position, eliminating the equipment's overhang off the back of the shipping truck. This design decreases the total length of the unit, maximizing the number of light towers that can fit on a shipping truck.
Remote Jobsites
Remote jobsites come with their own unique set of challenges. For example, having enough power onsite can be a challenge for jobsites in remote locations. Consider if you will need to use the light tower to power other equipment (but be sure to avoid wet stacking!)
For some remote locations, it may be desirable to choose a light tower with other dual functionalities, such as a light tower pump combo to tackle both lighting and dewatering needs.
If the location is windy, ensure your light towers have outriggers on them. Not only could a light tower on the loose become damaged or damage other equipment, but can harm workers as well.

An essential aspect to achieving zero downtime and continuous lighting on your remote jobsite is to consider your light tower's run time. Fuel transportation can be more challenging in remote locations.
Large fuel tanks deliver longer run times, which translates to less downtime for refueling. Some light towers offer upward of 70 hours of run time.
Additionally, it may be a good idea to rent or purchase a stationary fuel tank to refuel your portable light towers onsite.

Axiom Equipment Group Equipment Expert Suggestion:


The Wacker Neuson 20kW Wide Body Light Tower is a great light tower for remote locations, offering a great auxiliary power source. This is especially true in winter, when these light towers are often used for double duty to power other onsite equipment. These light towers also feature 110% fluid containment.
Volatile Jobsites
Industries such as pipeline, construction, oil and gas, powerline and mining, all have unique hazardous aspects that make them volatile environments to operate equipment in.
For example, hazardous gas accumulation is a serious problem in the oil and gas industry. When using light towers in this environment, the possibility of an accumulation of dangerous gases can create a danger for workers.
Portable light towers equipped with hazardous gas detection systems provide a needed layer of safety to prevent adverse safety events in this environment. When hazardous gas is detected, the equipment is triggered to warn workers with lights and a warning siren, and shut down the light tower if needed.
If you plan to operate in an environment where hazardous gas is present, request for a Positive Air Shut Off (PAS) valve to be added to the light tower, and consider spill containment features that prevent fluid leak.
Too many avoidable catastrophic accidents have occurred because industrial equipment with diesel engines were not equipped with a PAS.

Axiom Equipment Group Equipment Expert Suggestion:
Ask for safety features such as hazardous gas detections systems and/or 110% fluid containment to be included with your industrial light towers.
Environmentally-Sensitive Applications
Many stakeholders have growing expectations for companies and construction crews to operate in a way that doesn't have adverse effects on the environment around them. Choosing LED and solar-powered light towers are great options for environmentally-sensitive applications since they have the least impact and use considerably less fuel in comparison to traditional light towers.
Another aspect to consider when choosing a light tower for an environmentally-sensitive application is to choose a light tower with minimal noise emission. Often, there are local bylaws regarding jobsite noise emission, especially for jobsites operating near wildlife.

Choosing an industrial light tower with a Positive Air Shutoff System is desirable in environmentally-sensitive jobsites as well.
Axiom Equipment Group Equipment Expert Suggestion: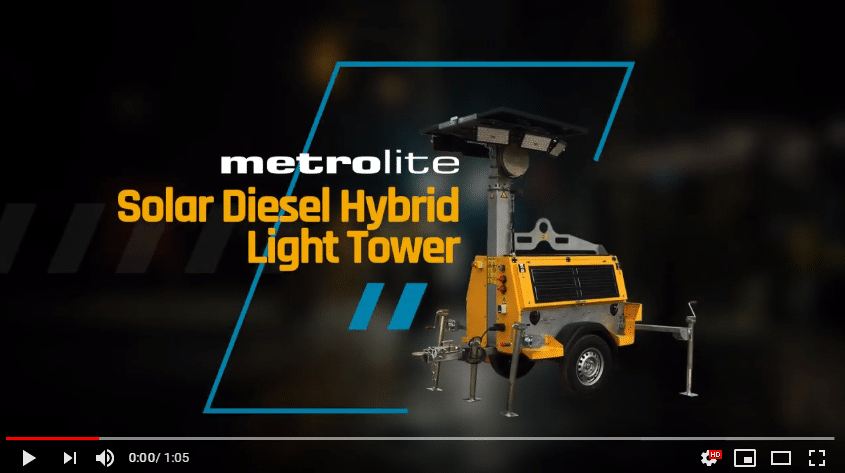 The Metrolite Solar Diesel Hybrid LED Light Tower Trailer combines solar energy with a generator and battery bank, which makes this hybrid LED light tower an environmentally-friendly lighting solution. Because of these features, very little CO2 is emitted. Not only is this light tower kind to the environment, it's great for cost-savings and emits little noise, making it great for residential and environmentally-sensitive jobsites alike.
Axiom Equipment Group's team has decades of combined experience in equipment rental, sales and service. Working with other internationally accredited organizations, we have the unique ability to provide on-demand products for sale and rent. With our large fleet of new, reliable, well-maintained site equipment, we can meet large project demands quickly and supply quality industrial equipment for smaller projects cost-effectively.
At Axiom Equipment Group, we believe in ZERO DOWNTIME so much that we stand behind it with a unique iron clad promise that combines a reliable equipment fleet with a rapid response program, around-the-clock availability, expert service and a financing option to fit every budget. Gain peace of mind knowing that if your equipment breaks down, we have the inventory to repair and replace it on the fly!