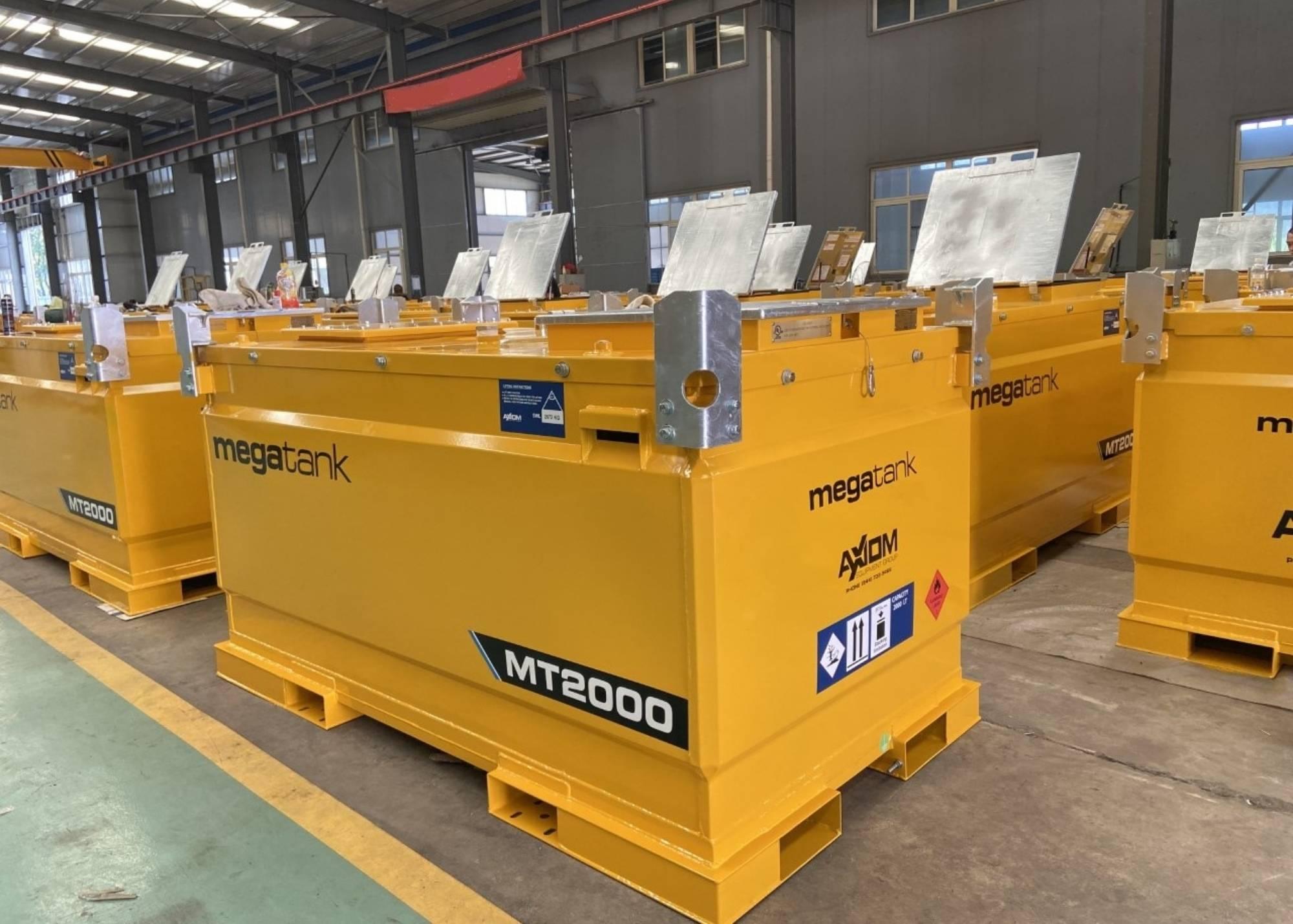 T

he Megatank is the perfect solution for safe storage and transport

ation

of

fuel

throughout North America

.
Axiom Equipment Group officially launched the Megatank fuel storage tank with 1000L, 2000L, and 3000L capacity options. Built double-walled with bi-directional forklift pockets and lifting brackets, a removable inner tank, an extra-large compartment area, and the ability to dispense fuel to three pieces of equipment simultaneously, the Megatank will help reduce the risks of downtime while becoming more cost-efficient operationally. To top it off, the Megatank provides the option of having DEF storage, ensuring a smooth replenishing system and maximized productivity.  
"Our goal is to make it as convenient as possible for our clients to have what they need for their projects or their fleet. Understanding that most equipment is powered by fuel on-site, we talked to our customers, and they confirmed the need," said Axiom Equipment Group General Manager, Randy Gay. "Now we're delivering a solution."  
 You can now pre-order and reserve the Megatank with the expectation that it will arrive at your site or facility in as little as three to four weeks. Although the COVID-19 pandemic has affected the supply chain and lead times tremendously, Axiom has proven to be a proactive manufacturer-supplier and stayed true to being able to deliver most of its equipment in less than two months unlike the current industry average of six months. 
Remote & On-Site Fuel Supply
With Megatank's portability and convenient access features, it can help reduce the time needed to travel for frequent fuel-refilling or fuel delivery wait times. The Megatank can ensure you have a constant fuel supply which can be easily dispensed when and wherever you need it.  
Fuel Transport Regulations
Meeting North America's transport regulations, we can guarantee that our Megatank will transport fuel safely and securely. The following certifications & testing include:  
– UN31A/Y Compliant Design (Transport Canada/US DOT)   
– ULC S601 Compliant Design (Canada)   
– UL142 Compliant Design (USA)   
– Pressure Tested   
Generators & Other Industrial Equipment 
With multiple ports on the Megatank, it can provide backup fuel and extend run times on up to three pieces of certain types of power equipment.   
About Axiom Equipment Group
Axiom Equipment Group is a North American industrial equipment manufacturer and supplier specializing in providing reliable, efficient, eco-friendly, and innovative solutions. We offer a line-up of 20 – 150 kVA generators, electric, hybrid, and diesel light towers, as well as 1000L – 3000L fuel tanks, developed through an extensive research and development process with input from the very people that use the equipment in the field.  
Let our vast range of top-rated equipment, backed by our experience and knowledge, help you ensure you are minimizing downtime and increasing operational efficiency for you and your clients.  
Call us at 1-844-732-9466 for more information on our Megatank fuel storage tank or get a quote today. You can also download the spec sheet here.
–
Media Contact:  
Ryssa Alarcon, Marketing Manager  
Axiom Equipment Group