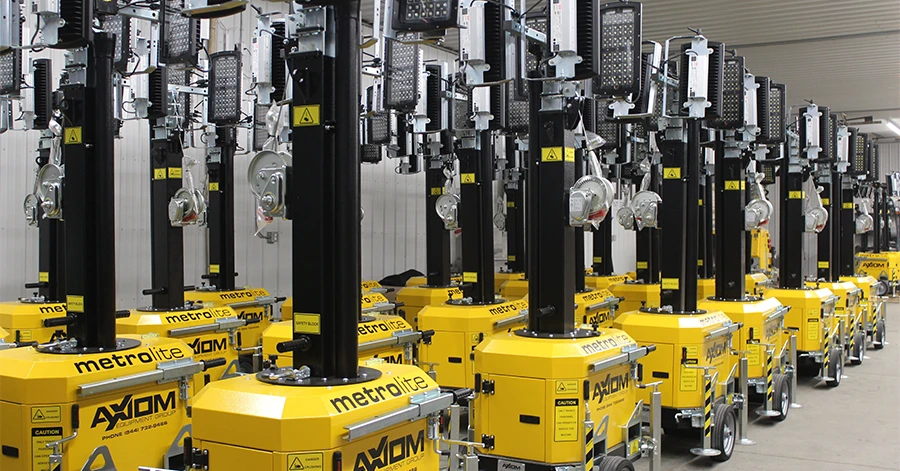 The construction industry is experiencing significant growth worldwide, and as a result, the demand for rental equipment has soared. To thrive in this competitive landscape, it's essential for rental equipment businesses to implement effective marketing strategies. If you're looking to find more customers to rent heavy equipment or smaller site support equipment there are several quick ways that you can get your business noticed. In this article, we will discuss five valuable marketing tips to help you grow your construction rental equipment business in 2023.
1. Build an Online Presence:
In the digital age, having a strong online presence is crucial for any business. Customers in your area are likely to turn to the web first when looking to rent construction equipment, and you want to make sure your business gets in front of them. To do this, create a professional website that showcases your rental equipment inventory, along with detailed descriptions, specifications, and pricing. Optimize your website for search engines (we'll talk more on this later) to improve its visibility in relevant search results. Additionally, maintain an active presence on social media platforms, such as Facebook, Instagram or LinkedIn, to engage with your target audience and share informative content related to construction and equipment rentals.

Pro Tip: It can be tempting to want to engage on all social media channels right away, but doing so takes significant time and effort and each social media channel has its own rules for how to produce posts that perform well. To start, pick one channel and focus your content on building a great audience there.
Three quick ways you can improve your rental equipment website now:
Simplify Navigation: Ensure that your website has a clean and intuitive navigation structure. Make it easy for visitors to find the information they need by organizing your rental equipment categories logically and using clear menu labels. Implement a search function to enable users to quickly search for specific equipment or keywords.
Optimize for Mobile Devices: In the mobile-centric era, it is crucial to have a mobile-friendly website. Optimize your website design and layout to be responsive, automatically adapting to different screen sizes and resolutions. Test your website on various mobile devices to ensure a seamless browsing experience for users on smartphones and tablets.
Highlight Key Information: Make important information readily available on your website. Clearly display your contact information, including phone number, email address, and physical address, preferably in the header or footer of each page. Feature prominent calls-to-action (CTAs) for requesting a quote, booking equipment, or contacting your team. Highlight any unique selling points, such as competitive pricing, extensive equipment inventory, or exceptional customer service, to differentiate your business from competitors.
2. Leverage Content Marketing:
Content marketing is a powerful tool for attracting and retaining customers. Produce high-quality content that addresses the pain points and challenges faced by construction professionals. Create blog posts, articles, videos, and infographics that offer valuable insights, tips, and advice. Share your expertise on topics such as equipment selection, maintenance, safety guidelines, and industry trends. This will position your business as a trusted authority and help you build long-term relationships with your target audience. Content takes time to produce, but with practice it gets easier and it can be a low-cost way to build interest in your rental equipment business.
Content ideas to get your rental equipment business more customers:
Quick Equipment Highlights: Instead of creating lengthy and resource-intensive content, focus on short and engaging equipment highlight videos or articles. Use your smartphone or a basic camera to capture images and videos of your rental equipment in action. Highlight key features, demonstrate functionality, and showcase the benefits. This bite-size content can be shared on social media platforms like Instagram, Facebook, or LinkedIn, allowing you to reach your audience effectively without significant time or financial investment.
Customer Testimonials and Reviews: Leverage the power of your satisfied customers to create compelling content. Reach out to customers who have had positive experiences with your rental equipment and ask for a brief testimonial or review. This could be in the form of a written quote, a short video clip, or a star rating on Google. Compile these testimonials and reviews on your website or social media platforms to build social proof and credibility. Authentic feedback from happy customers can be a persuasive marketing tool that resonates with potential customers.
Quick Tips and Tricks Infographics: Create simple and visually appealing infographics that provide quick tips and tricks related to equipment usage, maintenance, or project efficiency. Use free graphic design tools like Canva or Piktochart to design eye-catching infographics with minimal effort. Condense valuable information into bite-sized, shareable visuals that can be posted on your website, social media, or emailed to your customer base. These infographics can quickly grab attention and offer valuable insights without requiring extensive resources. 

Pro Tip: Ask your preferred equipment manufacturer for any information they can provide regarding use of equipment, safety protocol and more to help inform your content marketing. They're likely to provide this information for free, which will save you time and money!
3. Implement Local SEO Strategies:
As a construction rental equipment business, targeting local customers is often essential. Optimize your online presence for local search by implementing local SEO strategies. Claim and optimize your business profile on Google My Business and other relevant directories. Ensure that your business name, address, and phone number (NAP) are consistent across all platforms. Encourage customers to leave reviews on Google and other review sites, as positive reviews can greatly influence potential customers' decision-making process. Furthermore, consider running geo-targeted online advertising campaigns to reach local construction professionals and contractors.
Here are 3 quick strategies to improve the SEO of your rental equipment business
Claim and optimize your business profile on Google My Business, ensuring accurate and consistent information (name, address, phone number).
Encourage satisfied customers to leave positive reviews on platforms like Google, Yelp, and industry-specific directories.
Incorporate location-specific keywords (e.g., "industrial generator rentals in [city]") in your website content, meta tags, and headings to improve local search visibility. 

Pro Tip: Use a free tool like Google Search Console to help you identify which keywords you should be using on your website.
4. Leverage Industry Influencers:
Partnering with influencers and industry experts can significantly enhance your marketing efforts. Identify influential individuals or organizations in the construction industry and collaborate with them to promote your rental equipment business. This could involve sponsoring their content, hosting joint webinars or workshops, or engaging in co-marketing initiatives to grow your construction equipment rental business. Their endorsement and recommendations will help increase your brand's visibility, credibility, and reach within the target market.
A few construction influencers to watch in 2023:
Bob Vila: Bob Vila is a well-known figure in the construction industry, particularly in the home improvement and renovation sector. With a strong online presence and a large following, collaborating with Bob Vila can help rental equipment businesses reach a wider audience. He often shares valuable tips, project ideas, and product recommendations, making him an influential voice in the construction space.
Construction Junkie (Shane Hedmond): Shane Hedmond, known as Construction Junkie, is a popular construction industry influencer and blogger. His engaging content and active social media presence make him an excellent collaborator for rental equipment businesses looking to connect with construction professionals and contractors.
ToolBoxBuzz (Rob Robillard): Rob Robillard, the founder of ToolBoxBuzz, is an influencer and content creator in the construction and tool space. His platform provides comprehensive tool reviews, DIY tips, and construction project insights.  

Pro Tip: If you aren't ready to collaborate with an influence, you can check out their content to see what their audience is sharing to come up with new ideas for your business. You may even find new prospects in their follower lists on social media!
5. Embrace Video Marketing:
Video content continues to dominate online platforms, making it an invaluable marketing tool. Utilize video marketing to showcase your rental equipment in action, provide equipment demonstrations, and share customer testimonials. Create engaging and informative videos that highlight the benefits and features of your equipment. Share these videos on your website, social media channels, and video-sharing platforms like YouTube. Additionally, consider partnering with construction professionals or influencers to create collaborative video content, amplifying your reach and impact.
Here are a few quick ideas to get your video marketing juices flowing:
Behind-the-Scenes Equipment Maintenance: Showcasing your commitment to maintaining your rental equipment can build trust and confidence among potential customers. Create behind-the-scenes videos that highlight your equipment maintenance routines, inspections, and cleaning processes. Demonstrate how you ensure that your equipment is in excellent condition and ready for rental. These videos provide transparency and give customers peace of mind when renting from you. Filming these videos in-house can be done using basic recording equipment, and simple editing techniques can be applied to refine the final product.
Project Highlight Reels: Collaborate with customers who have used your rental equipment on their construction projects and create project highlight reels. Showcase before-and-after footage, time-lapse videos, or progress updates that demonstrate the impact of your equipment on their projects. These videos serve as testimonials while also showcasing the capabilities of your equipment in real-world scenarios. Work with your customers to collect footage or request them to share project updates, and compile the content in-house using basic video editing software.
"How-To" Equipment Usage Tutorials: Create instructional videos that guide customers on how to use specific rental equipment effectively and safely. Break down the steps and demonstrate proper techniques for setup, operation, and maintenance. This type of video content helps customers understand how to maximize the value of your rental equipment and use it correctly. Film these videos in a well-lit area with clear visuals and audio, providing a step-by-step guide to ensure viewers can follow along easily. 

Pro Tip: If you're filming your videos in-house to keep costs down, consider making a free Canva account. You'll have access to easy-to-use clipping and editing tools to help create polished content without having to invest in agency support.
In a competitive market, effective marketing strategies are essential to grow your construction rental equipment business. By investing in your marketing strategy, you can position your business as a go-to resource for construction professionals in 2023. Stay proactive, adapt to evolving marketing trends, and consistently deliver value to your target audience to ensure sustained growth and a thriving business.
Looking for more information about how you can grow your construction rental equipment business? Axiom Equipment Group is your resource and manufacturer-supplier partner. We have top-quality equipment, including Metrolite LED light towers, Megagen generators, and Megatank fuel tanks, and we offer exclusive marketing resources to our entire Dealer & Rental Equipment Networks.  
Fill out the form below for more information on growing your equipment rental business, and we will walk you through the process.