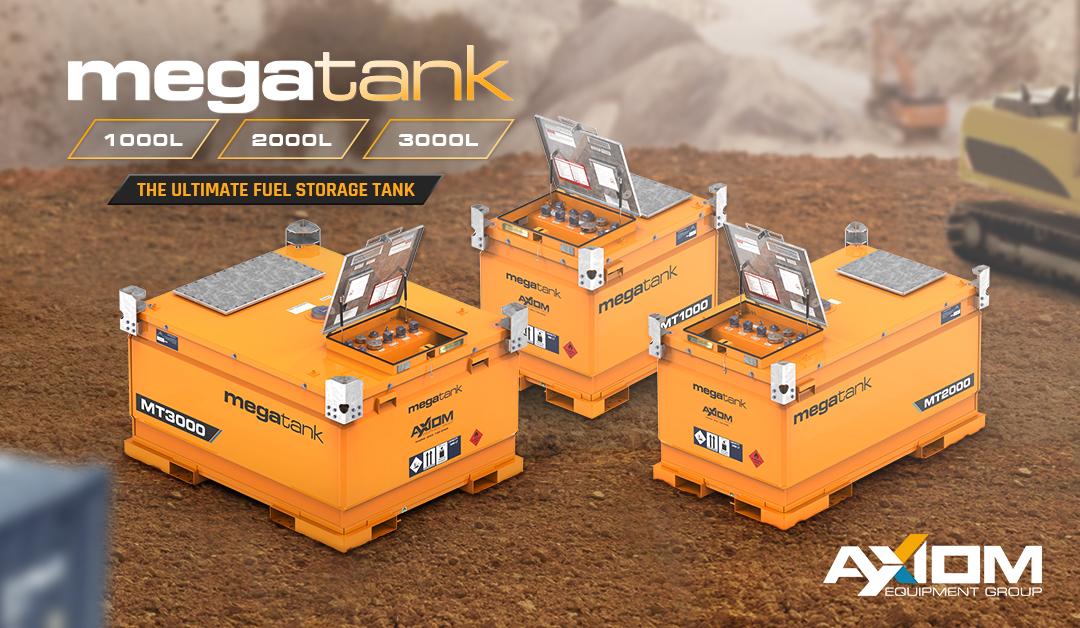 Construction, mining, and other industrial sectors are always looking for ways to reduce the costs of their operations. One of the ways they try to do this is by using fuel tanks for storage, which can decrease fuel costs for your equipment and cut back on fuel delivery wait times. Not only can this save you money, but it can also improve the overall productivity and efficiency of your workers.
In this article, we will discuss the benefits of using a fuel tank, why they're a necessary investment, and the options available at Axiom Equipment Group!
What is a Fuel Tank?
A fuel tank is a safe storage solution for flammable and hazardous liquids like diesel, gasoline, petrol, and more. Some are highly portable or transportable, which means that they are designed to transport and dispense fuel to jobsites when needed. They can also store fuel in large amounts in the right condition for preservation and optimal performance.  
Advantages of a Fuel Tank
Whether you work in construction, mining, pipeline, forestry, agriculture, powerline, or other industries, you know how important it is to have a reliable fuel source for your equipment. That's why it's best practice to invest in a storage solution. Below are some of the key benefits of having a fuel tank:  
Cost Savings
Saving money is one of the greatest benefits of investing in a fuel tank. How? 1) Fuel prices can fluctuate and having a fuel tank can help companies take advantage of lower prices when available, 2) Many companies offer discounts for purchasing fuel in bulk, and 3) You can achieve better fuel control and management as you're able to predict how much fuel you use and when you use it. All of these can help you plan for your fuel expenses and budget more effectively.  
Long-Lasting with Easy Maintenance
Most fuel tanks are durable and long-lasting. They're made of high-quality materials such as steel and metal that can withstand harsh weather elements and the wear and tear of everyday use. Moreover, they're typically very easy to inspect and maintain as needed.  
Reduced Contamination Risk
A fuel tank can help you reduce the risk of fuel contamination by controlling the storage and handling of your fuel. An added benefit is that it gives you peace of mind knowing that you have enough fuel, and that it will not be easily contaminated.  
Convenience 
Having a fuel tank on site allows companies to have a convenient way to store and access fuels for their vehicles and equipment. Therefore, fuel tanks can save you time and money by eliminating the need to travel to a fuel station or other off-site location to refuel frequently.  
Reliability & Flexibility
Unlike fuel stations that often run out of fuel, fuel tanks are much more reliable. You likely know the amount that is in your tank and can ensure you have a constant fuel supply even where there could be a regional or country-wide shortage. The storage solutions are also flexible, and you are free to choose the size and type of tank that best suits your needs. 
More Environmentally Friendly 
Fuel tanks can be considered eco-friendlier than refueling at stations. For example, gasoline contains harmful chemicals that pollute the air and water, but with a fuel tank, you can reduce the release of these toxic chemicals into the environment. Fuel storage also reduces your business' carbon footprint since you will no longer rely on frequent fuel deliveries, especially from long distances.  
Adequate Preparation During Crisis
Using a fuel tank, you can stay ready with your fuel and evade unexpected inflation prices. By doing this, you control how much money you spend on fuel and even when the prices spike, you'll have enough to keep you going until they drop again.  
How to Choose the Best Fuel Tank for Your Business
Before sealing the deal and settling on a desired fuel storage solution, consider these three questions:  
How much fuel do I want to hold?

Different businesses have different fuel consumption rates.  Consider your turnover on fuel and how often you refill or have fuel deliveries.
Will you be moving your tanks?

If your business requires you to move from place to place, it's better to invest in a transportable fuel tank instead of a highly rigid one. The portable tanks can withstand movement during fuel transportation.

 
Will the fuel tank be exposed to very harsh conditions?

If you're working in the construction or mining industry, you'll need a storage solution made of highly durable materials to ensure that the tanks will be crack resistant. 

 
The Best Fuel Tank in North America: Megatank
If you've determined that using a fuel tank is the route for your business, that's where we come in. Our Megatank is the ideal solution for the safe, convenient, and efficient transportation and storage of your fuel and other industrial lubricants. The tank sizes range from 1000L to 3000L to provide you with a solution for your small to large-scale operations.  
What makes our Megatank the ideal fuel tank? 
Transportable

–

Portable and safe to move around yet have enough capacity options to store large amounts of fuel. 

 
Versatile –

Our Megatanks have bi-directional fork pockets for easy maneuvering, as well as a galvanized stocking corner that can double up as a lifting bracket. 

 
Efficient –

Multiple ports that can connect up to three pieces of machinery at one time and allow dispensing simultaneously. 

 
Certified –

Our credibility and your trust are important to us, so we can guarantee that our Megatanks have achieved the following approvals and certifications:

 
UN31A/Y Compliant Design (Transport Canada/US DOT)  
ULC S601 Compliant Design (Canada)  
UL142 Compliant Design (USA)  
Pressure Tested  
To learn more about why our Megatank is the ultimate solution for your fuel storage and transportation needs, call us at 1-866-918-6976. At Axiom Equipment Group, you can Expect Higher Standards On Site.