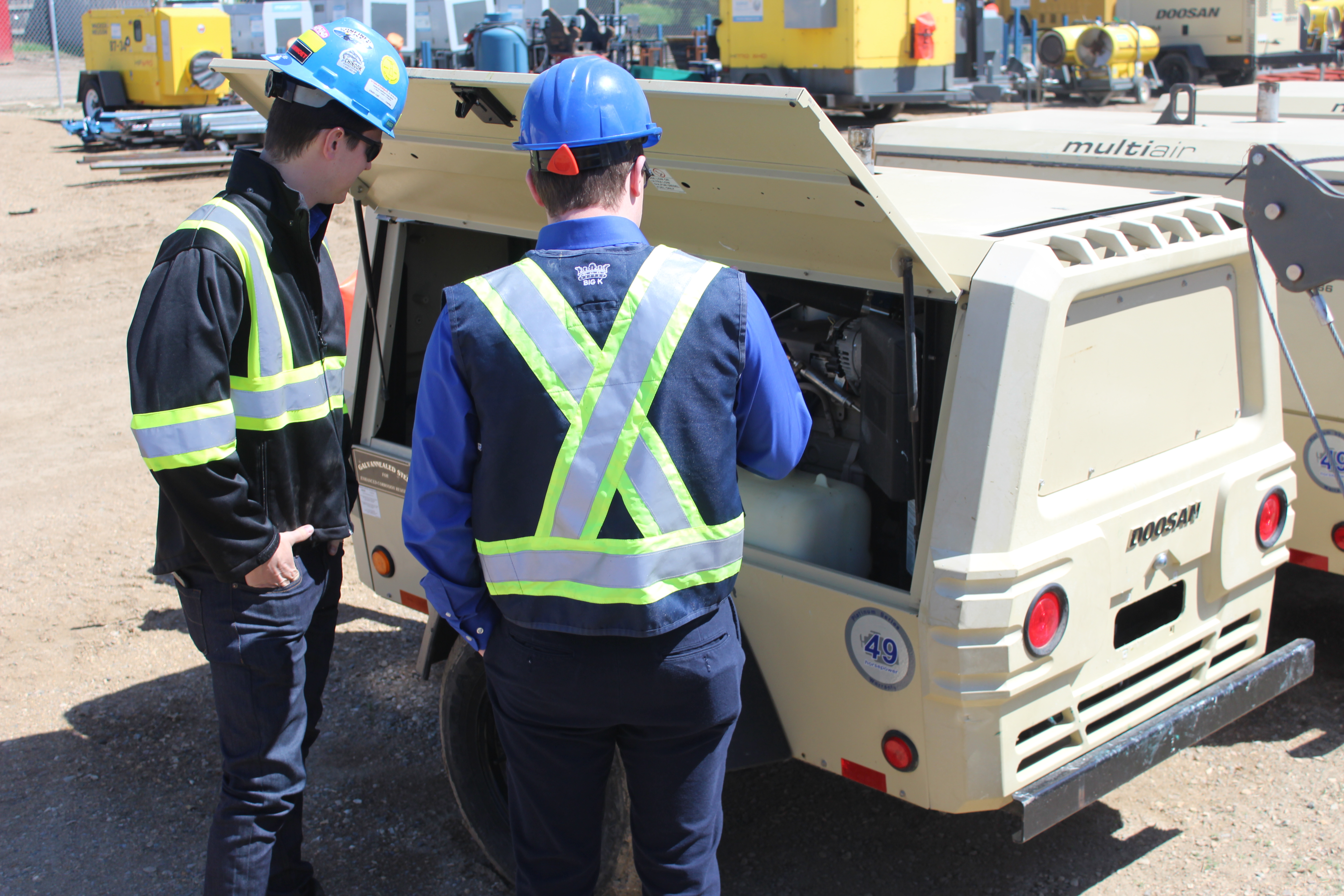 Construction Equipment is a huge investment. Often owners, project managers and site superintendents are faced with the question, should I rent or buy my equipment?
We've created a quick guide to help you make the right choice for your situation.
Frequency of use
Frequency of use is an important factor to consider when determining to rent or buy your equipment. If the job is short (less than 6 months), then renting makes more sense, since most construction equipment is financed rather then purchased up-front, and a short job means that you will be making payments long after your job is finished.
If it's a long-term or repeat job (6+ months), purchasing the equipment may be more beneficial to you because you'll save money in the long run. If your jobsites move frequently and you need quick access to your equipment at unpredictable times, then buying may be the better option. Many good rental companies will provide standby equipment to a customer's jobsite so they have quick access and don't experience downtime, but frequent and unpredictable site changes could be difficult to accommodate.
If it's not a long-term or repeat job, spending money on equipment that is idle can drain your cash flow. According to the Construction Business Owner, a general rule of thumb is that if you don't use a piece of equipment more than 60 to 70 percent of the time, you should consider renting.
Resource Management
Do you have internal resources within your business to deal with issues like repair, transportation and preventative maintenance of site equipment? One of the benefits of renting equipment is that your equipment supplier usually handles repairs and provides maintenance kits for your labor to complete. When determining if you should rent or purchase site equipment, you must look at the skillset and resources within your own team to handle and manage an equipment fleet. If you have limited resources and want to ensure that your equipment is at maximum operational efficiency, renting is likely your best option.
Factors to consider for renting vs buying equipment;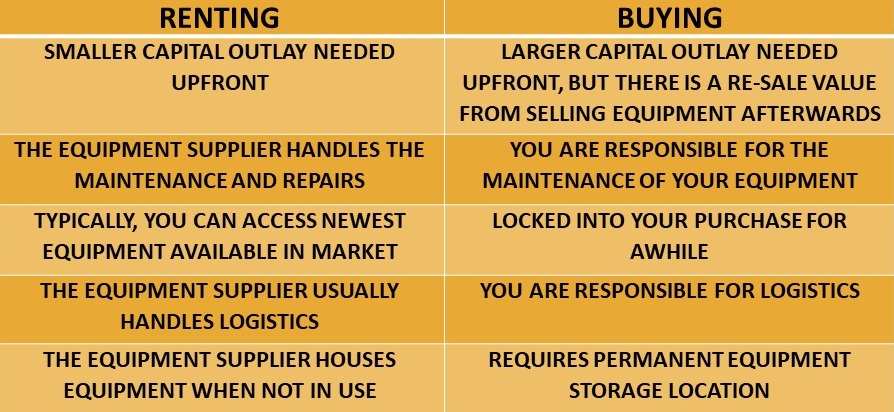 Cost of ownership vs cost of renting
When deciding to rent or purchase site equipment, always consider the location and length of your project. Will you be needing the equipment long-term, and how often will you be using it? When it comes down to financials, consider the interest rate of financing the purchase of equipment vs the rental rate over the length of time you need the equipment. Consider how many years it will take you to pay off the equipment and if you'll be wanting new equipment or technology at that time. How much will the equipment have depreciated by then?
When it comes to buying, you will also need to factor in storage, which is an added cost if you don't own the land you're storing equipment on. However, depending on your location, purchased equipment can be used for business tax deductions.
Here are some real case study examples of scenarios where customers reached out to Axiom Equipment Group for both equipment rental and sales.
Case study 1
A company in the pipeline industry approached Axiom Equipment Group about multiple equipment needs for a project in Alberta that had a project timeline of 6 weeks. The experts at Axiom Equipment Group identified the company's needs and quickly assessed that because they company only needed equipment for 6 weeks, it was more beneficial to them to rent their equipment rather than purchase. Because the company approached Axiom Equipment Group early in the season, they were able to take advantage of an "early bird" discount by booking site equipment well in advance.
Typically, equipment experts identify that it is more profitable for companies to own 70% of their equipment for projects that last less than six months. It is more beneficial for companies to rent in cases where the project timeline is estimated to be less than six months with the unlikelihood of repeat jobs in the immediate future.
Case study 2
A company in the powerline industry contacted the experts at Axiom Equipment Group for an 18 month long project, which required light towers for 14 months. In this instance, Axiom Equipment Group offered a finance program to the customer, where the total ownership cost was less than the cost of 14 months of rental. Because this customer was a long-time customer of Axiom Equipment Group and took good care of their equipment, Axiom Equipment Group bought back a few of their gently used equipment after a few years when they decided to upgrade to newer models.
In this case, because the project was between 6 months to two years, it made more sense for the customer to own their equipment.
At Axiom Equipment Group, we have a rent to purchase option where you can rent equipment, and then a percentage of the rental cost is applied towards the purchase of the equipment.
Our team has decades of combined experience in equipment rental, sales and service. Working with other internationally accredited organizations, we have the unique ability to provide on-demand products for sale and rent. With our large fleet of new, reliable, well-maintained site equipment, we can meet large project demands quickly and supply quality equipment for smaller projects cost-effectively.
At Axiom Equipment Group, we believe in ZERO DOWNTIME so much that we stand behind it with a unique iron clad promise that combines a reliable equipment fleet with a rapid response program, around-the-clock availability, expert service and a financing option to fit every budget. Gain peace of mind knowing that if your equipment breaks down, we have the inventory to repair and replace it on the fly!
Contact us today to learn more.