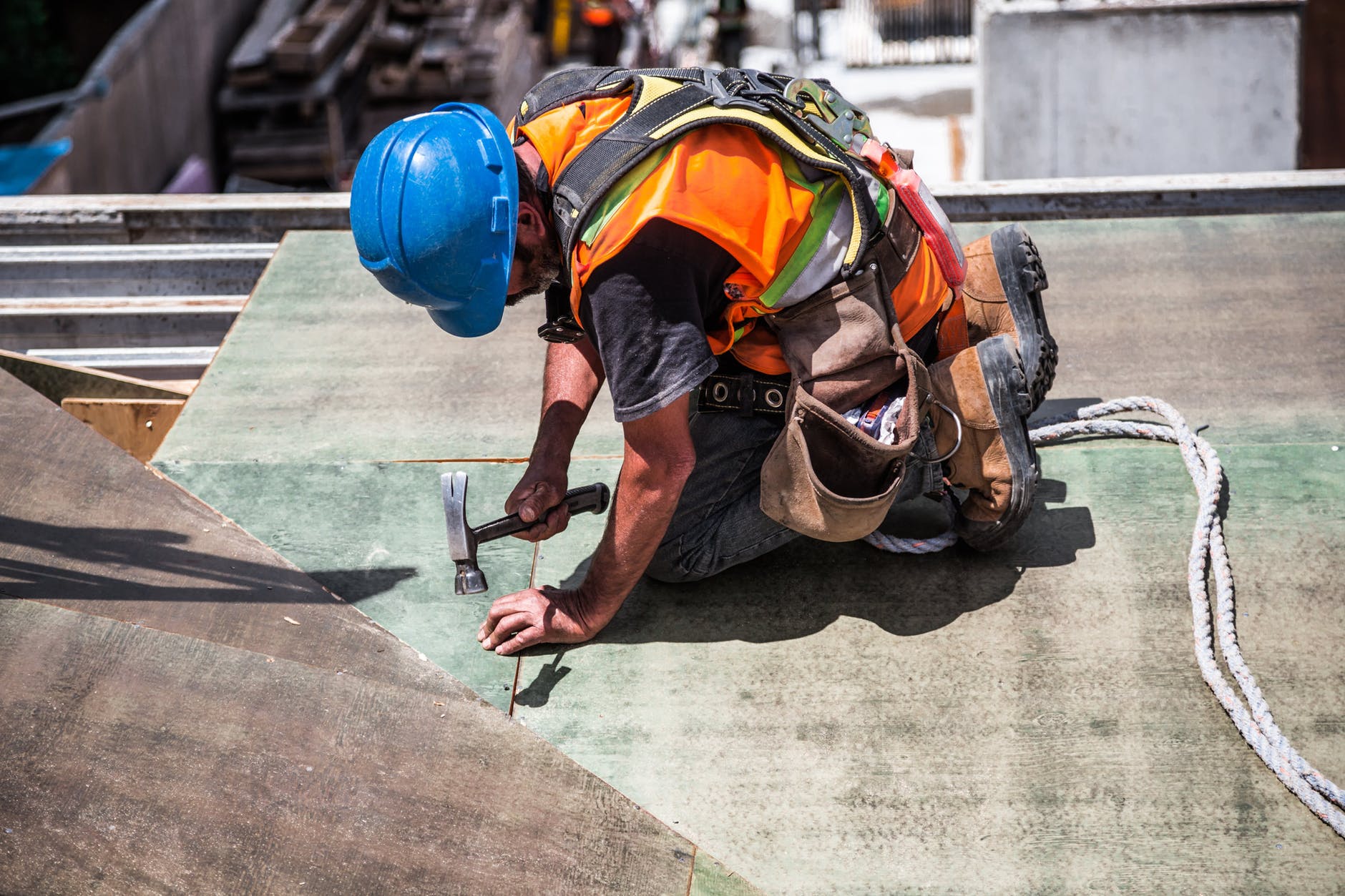 Industrial construction is very physically demanding, and construction is one of the most dangerous industries in North America.
In the industrial construction industry, many workers accept injuries as a normal occurrence; however, with education and proper preventative measures, most worker injuries can be avoided.
Learn how you can improve ergonomics and reduce worker injuries on your industrial construction jobsite with our tips:   
Common types of injuries resulting from poor ergonomics:
A variety of mild and serious injuries can occur in workers as a direct result of poor ergonomic form on the jobsite, including:
Material handling injuries
Musculoskeletal injuries
Neck, shoulder, lower back pain
Sprains
Carpel Tunnel Syndrome
Tendonitis
Workers have an increased risk of ergonomic-related injuries if they frequently complete these types of tasks:
Carrying heavy loads
Frequently working on their knees
Frequently twisting hands or wrists
Stretching to work overhead
Use certain types of tools – especially vibrating tools such as compaction equipment
How to prevent injuries from vibrating/compaction equipment
Concrete/compaction work in particular, poses a higher risk for injuries due to the vibrations of compaction equipment and common incorrect posture workers take while operating the equipment. This includes pavement breakers, trowels, and other types of compaction equipment commonly used in concrete construction work.
Compaction equipment is generally classified in two ways – hand-arm and whole-body vibrating equipment. Injuries sustained from hand-arm vibration usually include carpel tunnel syndrome or other ergonomic-classified injuries that can affect dexterity, feeling, and grip in workers' fingers and hands.
Whole-body vibration can result in lower back pain, which is one of the leading causes of lost time, according to the Journal of the American Medical Association.
Injuries result from vibrating tools because the vibrations caused by this type of equipment can decrease blood flow to extremities; making the body less effective at transferring oxygen and other vital nutrients to cells when they need it most, causing cells, tissue and nerves to die over time.
The period for long-term symptoms to develop from long-term, continuous exposure can occur in as little as two years, depending on the length of use and nature of work performed.
How to prevent injuries from vibrating tools:
Tool suppliers disclose the vibration emissions of their equipment in operator manuals, so industrial construction managers can easily discern safe working time for workers operating the equipment.
A risk assessment can be developed using a basic formula to calculate vibration levels as metres/square second, and then calculating the amount of time that's safe for a worker to operate the specific equipment in a single shift given the results.
According to the Occupational Health and Safety Association, if the vibration levels are above 2.5m/s2 for hand-arm tools, and .5 m/s2 for whole-body vibration tools and the "expected duration of exposure is close to a full work shift, then it is recommended that an exposure model be constructed by taking the average time on task per day with that tool and computing the expected vibration 'dose' contribution (sometimes called 'exposure points') for that task. If more than one type or model of tool is used, then the contribution dose for each should be calculated and summed to see whether the total is considered above harmful levels."
You can find a safe exposure calculator for hand-arm vibrating equipment here, and a calculator for whole-body vibrating equipment here. It should be noted that heavily-used vibrating tools can often actually emit higher vibration levels than originally noted in user manuals.
Using vibrating industrial construction equipment seems harmless at the time, but if not used correctly, can cause worker injuries in years to come.
Tips for preventing ergonomic-related injuries:
Although common, with proper education and an ingrained culture of safety, many ergonomic-related injuries can be prevented.
Here are tips which can be easily implemented on your industrial construction, powerline, pipeline, or oil and gas project's jobsite to reduce worker injuries:
Use equipment that reduces material handling, such as forklifts, carts, dollies, and other equipment that reduces strains on employee's bodies
Place materials strategically – when possible, place them at a height higher than ground level to avoid bending to reach them
Provide ergonomic and safe lifting training to all staff
Have regular stretching breaks
Use proper posture when operating equipment, especially compaction equipment (straight back posture)
Choose lighter weight materials when possible
Use multi-level scaffolding for overhead jobs
Use loading ramps and have heavy equipment on wheels when loading and unloading
Posture tips
Poor ergonomic posture can lead to lower back pain and musculoskeletal injuries. Here are some tips for achieving better posture for common types of general and industrial construction work:
Tips for floor and ground level work
To achieve better posture when completing floor and ground level work, opt for using tools and methods that are less labour intensive. For example, some tools have options for extension handles, which allow workers to stand up as opposed to stooping down when completing floor-level work.
When possible, use a bench and elevate your working tools and material to your height.  Using "kneeling creepers" (essentially a padded layer between the floor surface and worker) reduces stress to workers' knees, lower back and ankles.
Tips for overhead work
For workers who perform overhead work on scaffolding, using split-level adjustable scaffolding for materials prevents excessive strain to the body from the constant motion of bending over to pick up materials. Adjustable scaffolding has separate platforms for the worker and the materials. Shoulder pain is often a result of long-overhead posture.
Worker lifts such as scissor lifts provide stable platforms for overhead work and eliminates handling of ladders and scaffolding.
Tips for lifting, holding and handling materials
Many materials are used in industrial construction. You can rent or purchase equipment or tools which will minimize workers carrying materials overhead in postures which strain the body over time, such as non-powered carts and dollies and rolling carts used to transport pipe and other construction material.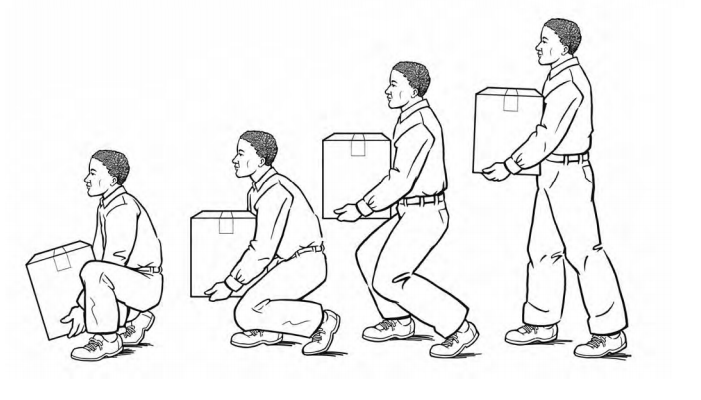 The above illustration, courtesy of Simple Solutions: Ergonomics for Construction Workers by the Centers for Disease Control and Prevention/National Institute for Occupational Safety and Health shows correct posture for lifting heavy objects.
Tips for safe posture while lifting to reduce worker injuries:
When you pick up or set down a heavy load of materials, don't reach more than 10 inches away from your body
Don't twist your body
Lift with your legs, not your back
Keep your back as straight as possible
Lift the load using a solid two-handed grip
Tips for hand intensive work
If your construction activities require hand-intensive work, consider substituting a power tool in place of a manual tool or use ergonomically-improved tools. When possible, use tools that come with a power grip, or add a power grip to existing tools.
For more specific examples of how to avoid ergonomic injuries in your particular industry, take a look at Simple Solutions: Ergonomics for Construction Workers by the Centers for Disease Control and Prevention.
By successfully educating your team, using equipment correctly and with proper posture, using equipment with ergonomic-friendly designs as well as being mindful of user limitations with vibrating compaction equipment, you can reduce preventable ergonomic-induced worker injuries on your jobsite.
Axiom Equipment Group's team has decades of combined experience in equipment rental, sales and service. Working with other internationally accredited organizations, we have the unique ability to provide on-demand products for sale and rent. With our large fleet of new, reliable, well-maintained site equipment, we can meet large project demands quickly and supply quality equipment for smaller projects cost-effectively.
At Axiom Equipment Group, we believe in ZERO DOWNTIME so much that we stand behind it with a unique iron clad promise that combines a reliable equipment fleet with a rapid response program, around-the-clock availability, expert service and a financing option to fit every budget. Gain peace of mind knowing that if your equipment breaks down, we have the inventory to repair and replace it on the fly!