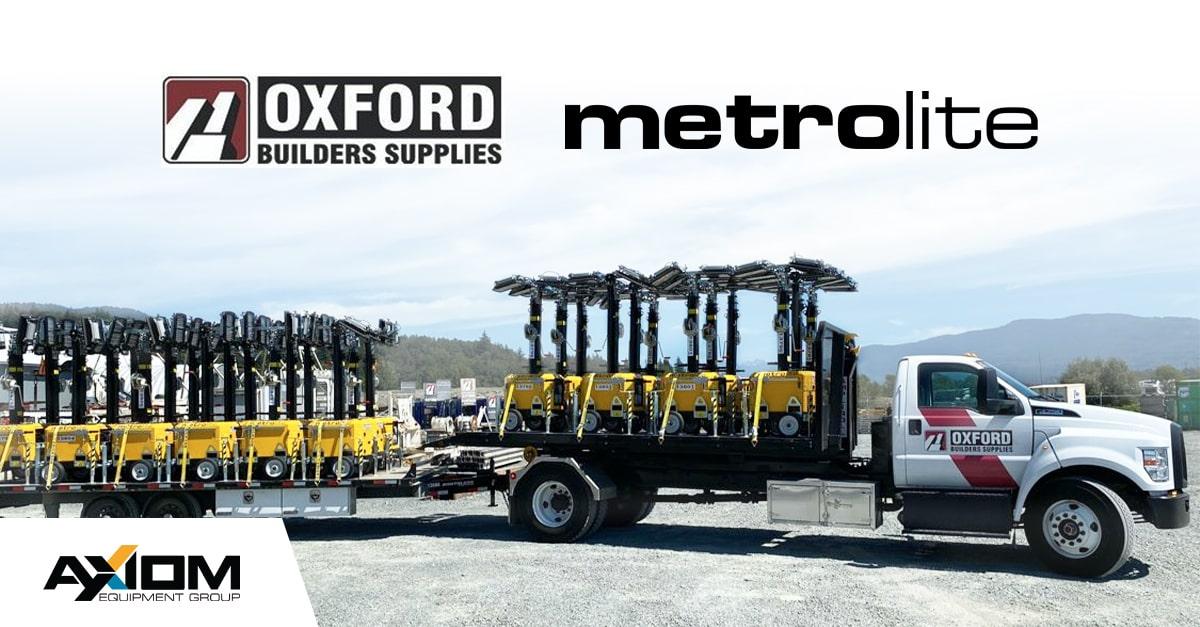 Handling large construction projects across Canada with very specific requirements, Oxford Builders Supplies is committed to finding only the best manufacturer-suppliers for their operations. Oxford Builders was provided the opportunity to work on the Oakridge Centre Project in British Columbia and was on the search for their next supplier that could provide top quality light towers at short lead times and affordable prices – this marked the beginning of their partnership with Axiom Equipment Group. We have now supplied them with over 70 light towers, and one comment that summarizes their experience with us? "No complaints. So far, so good!"


About Oxford Builders Supplies
Oxford Builders Supplies, owned by EllisDon (leading construction service company) is an equipment and maintenance supplier providing a broad range of new and used equipment to the construction industry. From cranes, hoists, and scaffolding to generators and light towers, Oxford Builders has been able to fulfill the needs of thousands of projects across Canada. Their continued success can be attributed to their product variety, knowledgeable team, great service, and excellent manufacturer-supplier partnerships.


Needing A Supplier for Light Towers with Excellent Responsiveness and Short Lead Times
A couple of years ago, Oxford Builders committed to the redevelopment of Oakridge Centre, one of the largest construction projects in British Columbia. To ensure timely completion and satisfy clients within budget, Oxford Builders knew they needed a supplier that could provide unbeatable responsiveness, excellent product support, and short lead times. While this seems intuitive, many contractors or companies can agree that finding a supplier is a time-consuming and cumbersome process, especially when projects have very specific requirements.


Why Oxford Builders Supplies Chose Axiom Equipment Group and How It Resulted In Tremendous Progress for a Large Project in British Columbia
With Axiom known for being proactive, one of our Account Managers, Barry Cavenagh, reached out to Oxford Builders and provided information on our equipment availability and pricing. This resulted in the sale of over 70 Metrolite ELT-4320 electric light towers, which are now being used for the project's parkades, streets, underground operations, and more.
Richard Hearnden, Operations Coordinator at Oxford Builders, explained that dealing with Axiom had been the best decision because of our:  
Innovative & Cost-Saving Equipment (LED light tower options instead of metal halide, very compact and saves on space, etc.)
Great Equipment Availability & Value for Price
Unbeatable Pre-Sale & After-Sale Service
While Oxford Builders was impressed with our availability, price, and product quality, they also emphasized their high regard for our excellent responsiveness.
"Axiom has always been responsive to our needs. Unlike other manufacturers and suppliers that take weeks to respond, Barry, our Account Manager, has been very easy to get a hold of and he checks in on us regularly," stated Hearnden.
The partnership between Oxford Builders and Axiom now serves as an essential piece to ensuring the progress of the Oakridge Centre project and many others.