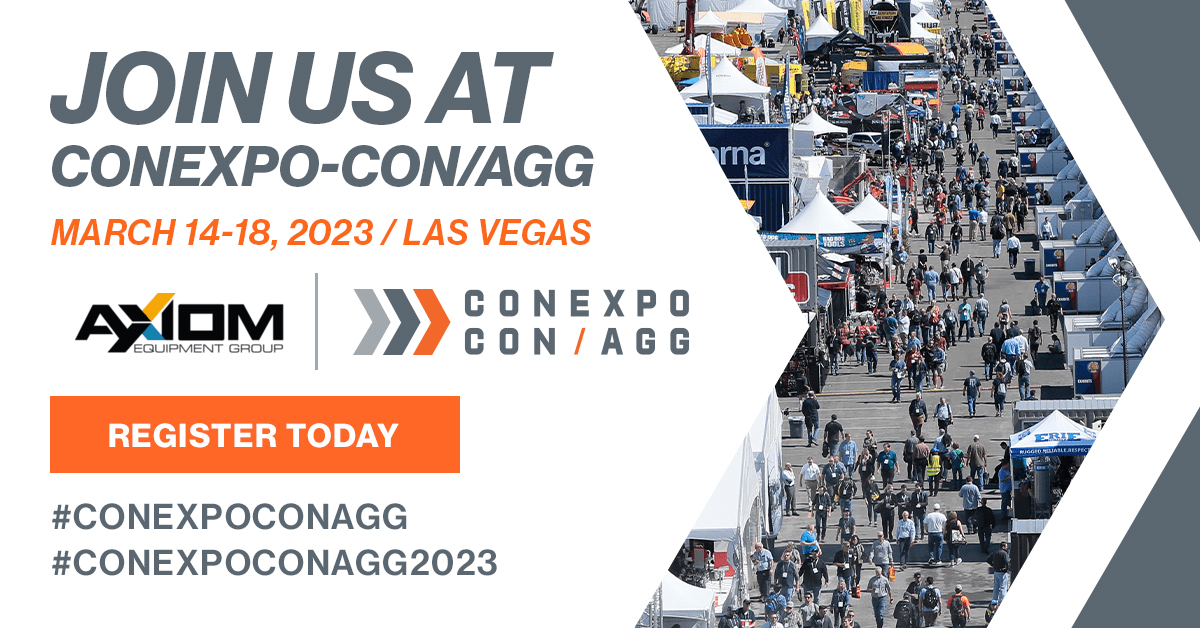 Axiom Equipment Group will be exhibiting, for the first time, at CONEXPO-CONAGG, the largest construction tradeshow in North America. With Axiom's focus on eco-friendly equipment particularly through hybrid and electric solutions, CONEXPO will serve as an outlet for showcasing and introducing these options to the North American market.
Axiom will be located at South Hall 1, Booth 63001 in the Las Vegas Convention Centre from March 14th to 18th, 2023.
"CONEXPO will be the largest tradeshow that Axiom will have exhibited at so far, and we're excited for the opportunity to showcase our latest electric & hybrid technology to the US market," stated Randy Gay, General Manager at Axiom.
The equipment we're showcasing at CONEXPO includes the Megagen z30 Generator, Megatank 1000L Fuel Tank, Metrolite LED Electric Light Tower, Metrolite LED Hybrid Light Tower, and Metrolite DLT-4C+ Diesel Light Tower. Below highlights our top eco-friendly equipment solutions that will be available for a demo at our booth.
– Metrolite LED Electric Light Tower – A compact and easy-transportable lighting solution with LED lights, 360 rotating mast, and 22ft mast. The ELT promises zero emissions, zero noise, and zero maintenance.
– Metrolite LED Hybrid Light Tower – A hybrid lighting solution that uses battery technology and solar power, improving fuel cost-savings and overall efficiency.
To learn more about our eco-friendly equipment, visit www.axiomequipmentgroup.com.
Disclaimer: Equipment for showcase may change.
About Axiom
Axiom Equipment Group is a North American industrial equipment manufacturer and supplier specializing in providing reliable, efficient, eco-friendly, and innovative solutions. We offer a line-up of 20 – 150 kVA generators, electric, hybrid, and diesel light towers, as well as 1000L – 3000L fuel tanks, developed through an extensive research and development process with input from the very people that use the equipment in the field.
Let our vast range of top-rated equipment, backed by our experience and knowledge, help you ensure you are minimizing downtime and increasing operational efficiency for you and your clients.
For more information on availability, pricing, or CONEXPO, contact us:
Telephone: 1-866-918-6976
Email: equipment@axiomequipmentgroup.com
Website Form: https://axiomequipmentgroup.com/contact-us/