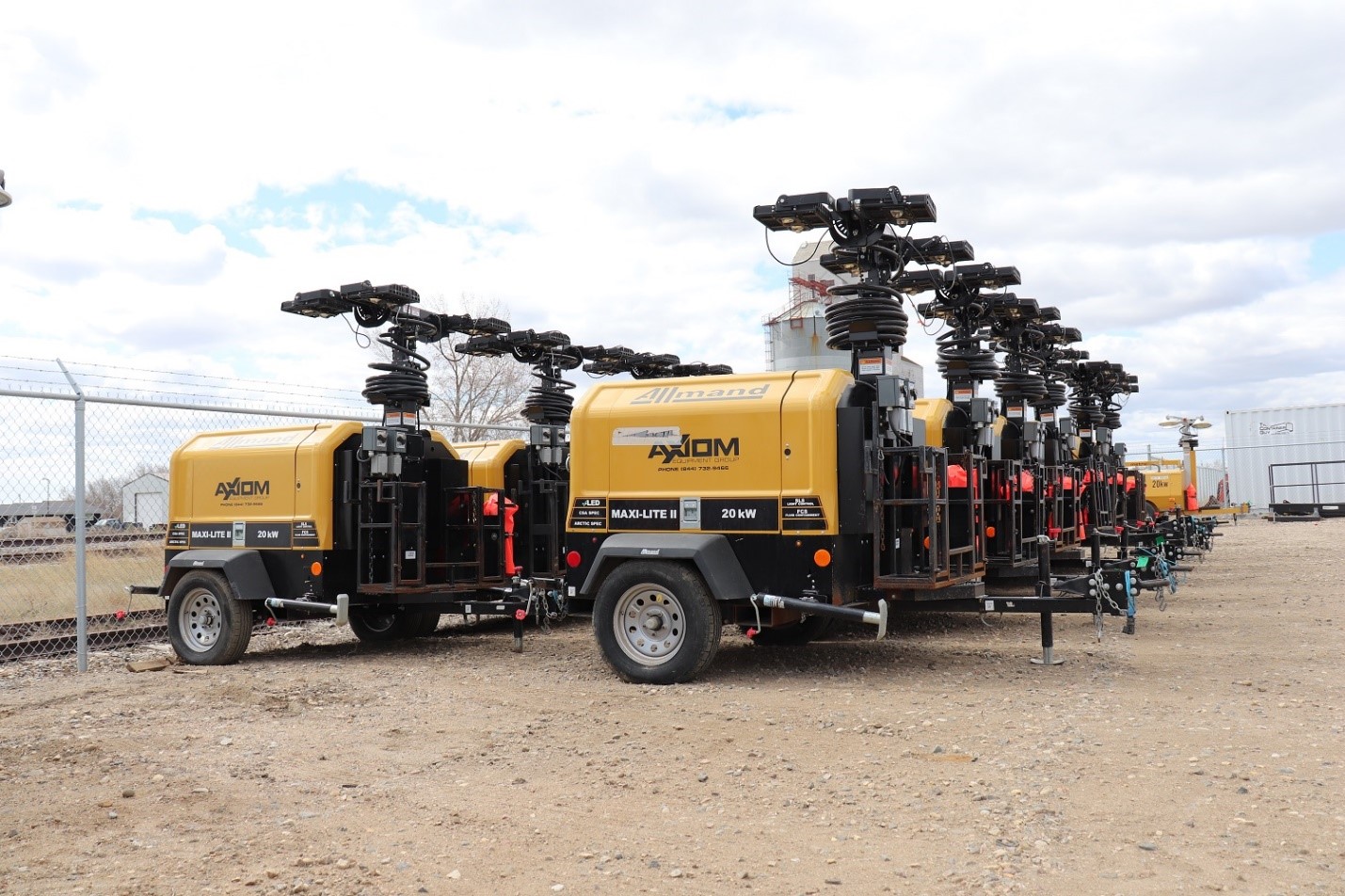 Selecting the correct equipment for your industrial construction jobsite is no small task, especially when it comes to light towers, which are essential for 24/7 construction and after-daylight operations.
Jobsite location, what type of industry you're operating in, as well as unique lighting needs are all aspects contributing to what light tower will be the best option to provide efficient lighting on your jobsite.
Here is a checklist of comprehensive factors to consider when choosing the right industrial light tower for your construction jobsite:
Factors to consider when choosing your light tower


Fuel capacity
Fuel capacity is especially important for remotely-located projects and/or projects with a long continuous run time. Fuel tanks are an option to pair with your light towers, if needed, to reduce trips to and from your site for fuel.
Fluid containment systems
Many provinces and states have strict regulations and environmental fines and penalties for even small oil or fuel spills. A fluid containment system is designed to hold at least 110% of the fuel and crankcase oil in the light tower to help prevent spills, and their subsequent environmental damage. These are sometimes referred to as secondary containment systems.
For highly-sensitive environments, selecting light towers with fluid containment systems are a must. At Axiom Equipment Group, our full selection of light towers come with 110% fluid containment systems so you can be assured that the environment you're operating in will be protected from any potential spills.
Learn more about Canada's Environmental Code of Practice for Aboveground Storage Tank Systems Containing Petroleum Products.
Lamp options
Metal halide or LED lamps are two lamp options when it comes to light towers.
Metal halide lamps are cheaper to buy up front, but LED light towers are less costly to own over time as they require less power. Metal halide light towers are good for evenly lighting large sections of worksites. Metal halide lights generally take around 3 – 5 minutes to achieve full brilliancy.
LED lamps are costlier to initially purchase, but save money over time because of their reduced cost to operate. The lamps in LED lights are brighter, and the elements last longer. LED light towers typically provide more focused, concentrated light, which may be better for illuminating a specific area within a jobsite. LED lights can turn on and off quickly, with no time delay for full brilliancy.
Ease of setup
When it comes to seamless and continual operations, both equipment transportation and setup can be an underrated time consumer if not properly planned. Equipment that is not ready to go when needed can have a domino effect on operations, potentially causing downtime.
Consider the length of your job as well as a plan for unloading the equipment when it arrives on site. For example, on short-term jobs, vertical mast towers are often chosen because of their ease of setup in comparison to horizontal mast light towers.
Size of light tower
When choosing an industrial light tower, there are two factors to consider when it comes to sizing – the size of the generator, as well as the physical size of the unit itself.
When it comes to generator size, consider whether auxiliary power is needed (sometimes referred to as daisy-chaining). Light towers come in a variety of sizes, with generators typically ranging from 8kW – 20kW. Be sure to select the right generator size to avoid wetstacking.
When it comes to unit size, consider your job space – does the light tower need to be compact? Congested jobsites are not only unpleasant, but are more unsafe for workers.
Wide or narrow body equipment
Light towers come in two options – narrow body or wide body. Both styles have pros and cons. A wide body light tower is more stable and easier to tow because of its centre of gravity, whereas a narrow body light tower is more compact, but moves around more while being towed to the jobsite.
Environmental and application factors unique to your jobsite
Where your project is located can have a huge impact on your light tower requirements and accessory needs. One example is the average wind gust at the location – exceptionally windy locations will require stabilizers with the light tower to withstand strong gusts of wind. Not only could a light tower be damaged by being blown over, but can be blown into other pieces of equipment or workers.
At Axiom Equipment Group, all light towers for sale and rental come with the option to include outriggers for stabilization.
The application you're operating the light tower in is another factor to consider. Industries such as pipeline, construction, oil and gas, powerline and mining, all have unique hazardous aspects.
For example, hazardous gas accumulation is a serious problem in the oil and gas industry. When using light towers in this environment, the possibility of an accumulation of dangerous gases can create a danger for workers.
Light towers equipped with hazardous gas detection systems provide a needed layer of safety to prevent adverse safety events in this environment. When hazardous gas is detected, the equipment is triggered to warn workers with lights and a warning siren, and shut down the light tower if needed. If you plan to operate in an environment where hazardous gas is present, request for a Positive Air Shut Off (PAS) valve to be added to the light tower as well.
Always let your Equipment Account Manager know what type of environment you're purchasing or renting your light towers for so they can suggest accessories or additions to help you operate safely.
Conclusion


By taking these factors into consideration when choosing the right industrial light tower for your construction jobsite, as well as pairing with an experienced industrial equipment company, you can ensure you avoid costly mistakes by selecting the appropriate light tower for your application and unique jobsite needs.
At Axiom Equipment Group, we offer customers the option to trade and/or return your equipment as you need and can offer different combinations of power to fit specific requirements.
Our experienced team has decades of combined experience in equipment rental, sales and service.
At Axiom Equipment Group, we believe in ZERO DOWNTIME so much that we stand behind it with a unique iron clad promise that combines the industry's most reliable equipment fleet with a rapid response program, around-the-clock availability, expert service and a financing option to fit every budget.
Contact us today for your industrial equipment lighting and servicing needs.