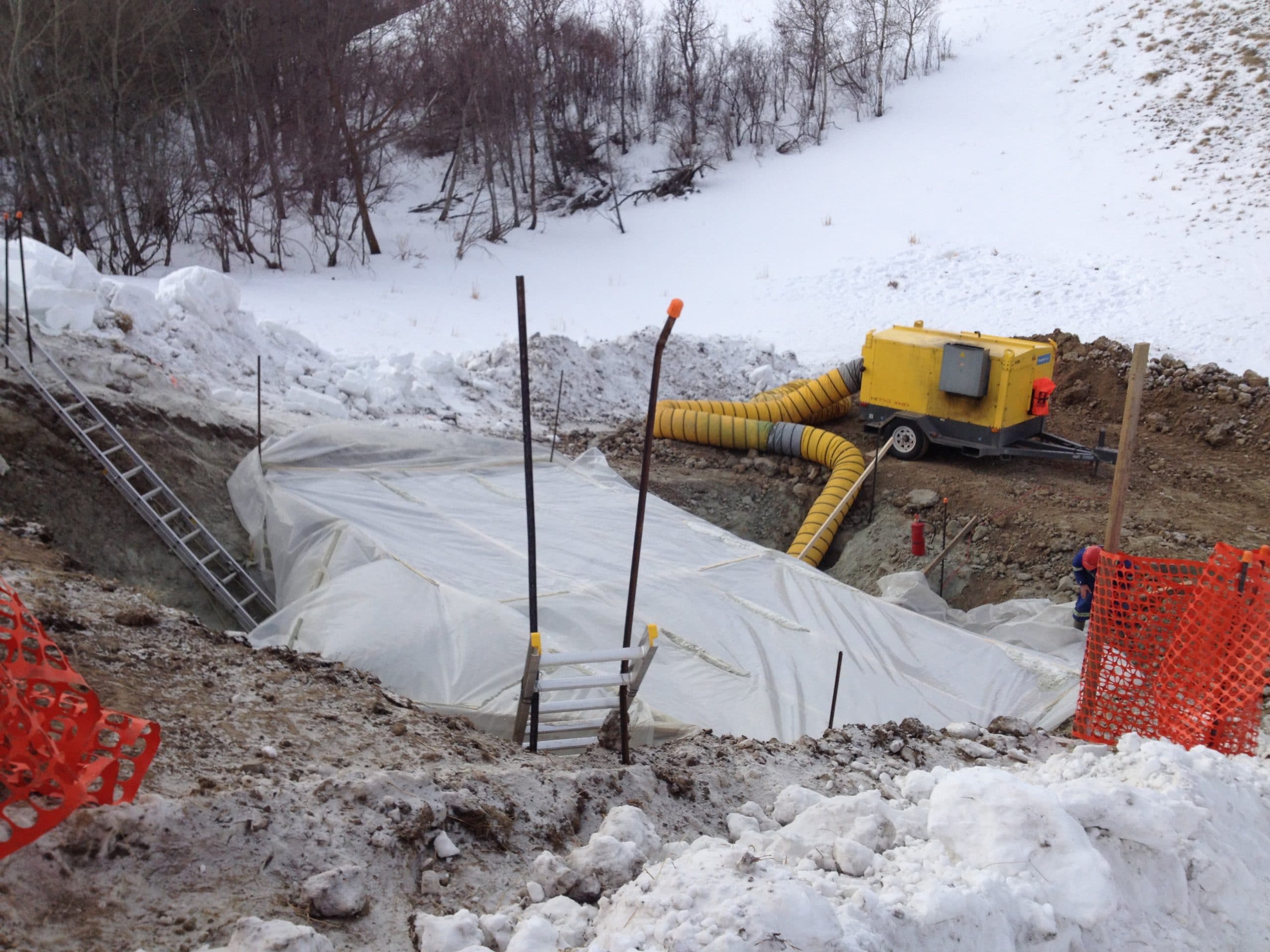 Construction is one of the most dangerous industries in North America, with over 26,000 Canadian construction crew workers injured on the job in 2017, according to the Association of Workers' Compensation Boards of Canada.
With many workplace accidents going unreported, this number is likely much higher in reality.
When completing construction work in winter, which is the most dangerous season for construction crews to work in, keeping your construction crew safe can be extra challenging.
Learn how you can keep your construction crews safe in winter with our tips for creating safer worker environments and gearing your construction crew up with the appropriate clothing and knowledge to safely tackle their work in the winter season.
Create a safe working environment
Before your construction crew even enters the jobsite or work area, ensure you create a safe working environment. Slips, trips and falls account for 60% of falls reported by construction workers each year in Canada, with weather hazards being a large contributing cause.
Tips for creating a safe working environment for your construction crew in winter include:
Have snow cleared before work begins on your jobsite
De-ice your working environment and have reserves of sand or salt available onsite to continue de-icing throughout the day if necessary. Before you use any de-icing agent, make sure it complies with your site environmental requirements. Some sites prohibit the use of de-icers that are salt-based as they can change the pH and conductivity of ground water
Ensure hazards hidden by snow are well marked (holes, excavations, slippery surfaces, etc.)
Have snow regularly cleared throughout the day as it piles up
Encourage your snow removal team to use a push rather than lift motion when clearing snow with a shovel to reduce lower back strain
Plan to keep access roads to your jobsite cleared and well-maintained
Be aware of inclines and surfaces onsite that become slippery in winter (wooden ramps and scaffolding become especially slippery!)
Require that workers dress for the elements along with proper PPE onsite
Along with required personal protective equipment (PPE), require that your construction crew wear clothing that is appropriate and properly rated for the temperatures you're working in.
Clothing requirements are very climate and situational-based, but commonly include:
Outer layers of clothing that are waterproof and windproof, and inner layers that are insulating
Gloves properly rated for extreme cold temperatures
Headwear that covers ears (30 to 50 per cent of body heat is lost through the head!)
Waterproof footwear with good grip on ice (boots with rubber tread are ideal). Gaiters are suggested for jobsites with high snowfall to prevent snow from falling inside boots
Two layers of socks are recommended, with polypropylene material suggested for the first layer, and wool suggested as the secondary layer, to keep moisture away from the skin. Make sure that boots aren't too snug fitting with layered socks as it could restrict blood circulation
Have spare boots and outerwear available onsite in case workers' winter wear becomes wet – this not only helps your crew stay warm, but maximizes your productivity!
Try to avoid cotton cloth if possible because it tends to retain moisture – wool is recommended as a better option.
Other tips for keeping your construction crew safe in winter
Along with creating a safe working environment and requiring that crews dress appropriately for the elements and wear proper PPE, here are a few extra tips to ensure your construction crew stays safe while working in winter:
Schedule the more labour-intensive tasks during daylight and warmest part of the day if possible
Be mindful of ladder placement – ladders should never be placed on ice
Provide a heated break area – heat your break areas with an indirect-fired industrial heater and ensure your industrial heaters have had appropriate seasonal maintenance to ensure they continuously run smoothly onsite
Warm up equipment and tools beforehand when/if necessary
Provide training for your crew on cold-related injury and illness symptoms
Have a buddy system so your crew can watch out for one another
Tools and equipment with metal handles and bars should be covered by thermal-insulating material
Reliable, industrial light towers can help make sites safer by increasing your crew's visibility, especially in winter months with shorter daylight. If your jobsite is in a location with strong winds, ensure your light towers have outriggers to prevent them from blowing over
Always check the weather forecast in advance and have guidelines and protocols in place for halting work when necessary to protect your most valuable investment – your workers!
By following these tips to optimize your construction crew's safety, you can keep your crew safe and enjoy a productive winter with no worker injuries or fatalities and minimized downtime.
Subscribe to our Equipment Insider newsletter today for more equipment and industry tips to maximize your safety and productivity.
Axiom Equipment Group's team has decades of combined experience in equipment rental, sales and service. Working with other internationally accredited organizations, we have the unique ability to provide on-demand products for sale and rent. With our large fleet of new, reliable, well-maintained site equipment, we can meet large project demands quickly and supply quality industrial equipment for smaller projects cost-effectively.
At Axiom Equipment Group, we believe in ZERO DOWNTIME so much that we stand behind it with a unique iron clad promise that combines a reliable equipment fleet with a rapid response program, around-the-clock availability, expert service and a financing option to fit every budget. Gain peace of mind knowing that if your equipment breaks down, we have the inventory to repair and replace it on the fly!