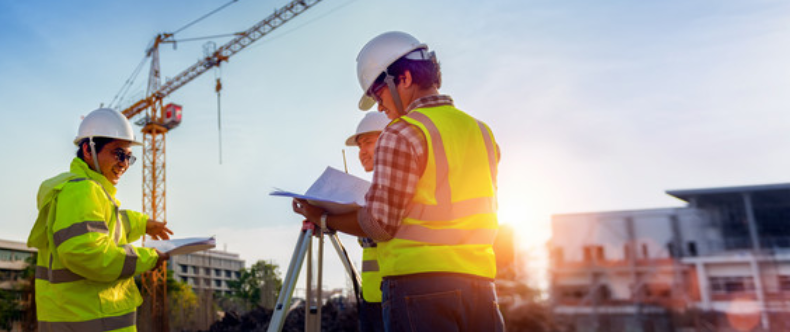 Prime construction season is upon us, and while securing contracts for projects may not be difficult, attracting and retaining a strong industrial construction team with diverse skills and experience can be.
The pitfalls of a weak construction team can include winning less bids, lowered capacity to take on new jobs, and a weakened brand name/reputation. Additionally, high turnover rates are problematic both in terms of cost and staff morale.
Learn five ways you can attract and retain a strong construction team to complete your industrial construction projects with success.
Offer career growth opportunities
One of the top factors that attracts talented candidates to job positions is opportunities for career growth. Not only is this an essential factor in attracting good, skilled talent, but essential to retaining the skilled construction professionals you already have.
Growth opportunities can include both training for career development as well as career advancement.
Employees spend about a third of their lives at work, and employees who feel limited at their current job are apt to move onto bigger and brighter things. Recognize your top talent by offering the career growth they crave.
Here are some ways you can foster growth opportunities for your construction team:
In-house training on career-related topics and new technology
Opportunities for young workers to be mentored by more experienced workers in the construction industry
Compensation for career-related courses
Opportunities to join and participate in construction associations
Opportunities for career advancement and progression – both financially, and in role-progression
By showing your team they have long-term career growth opportunities in your company, you increase your chances of retaining them as experienced construction professionals.
Establish brand ambassadors
What's even better than telling prospective employees that you're a great place to work for is showing them.
The best way to show your values live in action is through brand ambassadors. Brand ambassadors are essentially current employees who embody your culture well and show enjoyment in their career with your company.
Encourage your brand ambassadors to openly talk about the things that make your company great to work for on social media, profile them in video content for YouTube and your website, and ask them to be featured in an employee testimonial for your website.
Encourage your team to share photos on social media of your training session, completed projects (if allowed) and at team functions. If you haven't already, consider creating social media channels for your company and even having your own unique hashtag.
Besides the authenticity, a great perk of having brand ambassadors is that it's free marketing!
Career fairs and tradeshows
People can't come work for your construction company if they don't know you exist!
While social media and digital advertising is great, you can't beat meeting prospective talent in person at career fairs and tradeshows. This will give you a better chance to explain your "wow" factor – aka why someone would want to join your team, in person!
Career fairs and tradeshows also allow you to read someone's energy and personality before choosing to interview them, allowing you to gauge whether or not they would be a good fit for your team.
Intercepting young professionals right out of trade school is a great way to attract new team members while their learned skills and knowledge is still fresh in their mind.
Establish your "wow" factor
Figuring out your values and "wow" factor – what sets you aside from other companies in the construction industry, is key to how you will market your open job positions.
For example, do you offer something to your team that your competitors don't? Even small perks can go a long way.
What values does your construction team embody that set you apart? Can potential candidates be guaranteed that they'll be safe while working on your jobsite because your company invests in safety training, software, personal protective wear, and takes safety into account in everything they do?
Review your values and perks from the other side, figure out what your "wow" factor is, and work on strengthening and marketing it.
Offer great perks and compensation
Offering great perks and compensation is truly a no brainer to attract the best talent. What can you offer construction professionals that other companies don't?
A recent study has shown that young people are looking for perks, not just compensation when it comes to career hunting.
Examples of perks you can extend to attract and retain your construction team include:
Flexible hours
Paid time off
Maternity/paternity leave and top-up
Wellness programs
Food/coffee
Transportation and parking reimbursement
Sign-on and retention bonuses
Retirement plans
Stock options
Annual or bi-annual bonuses
Employee Assistance Programs
Tuition/education reimbursements
You can easily figure out which perks your construction team would be most interested in by doing an internal employee survey, or market research to learn what your competitors are offering their team.
At the end of the day, by having great values, which are demonstrated by your brand ambassadors, having a presence at career fairs/tradeshows, offering great perks and compensation along with career growth opportunities is sure to help you attract and retain a strong construction team.
Axiom Equipment Group's team has decades of combined experience in equipment rental, sales and service. Working with other internationally accredited organizations, we have the unique ability to provide on-demand products for sale and rent. With our large fleet of new, reliable, well-maintained site equipment, we can meet large project demands quickly and supply quality equipment for smaller projects cost-effectively. At Axiom Equipment Group, we believe in ZERO DOWNTIME so much that we stand behind it with a unique iron clad promise that combines a reliable equipment fleet with a rapid response program, around-the-clock availability, expert service and a financing option to fit every budget. Gain peace of mind knowing that if your equipment breaks down, we have the inventory to repair and replace it on the fly!