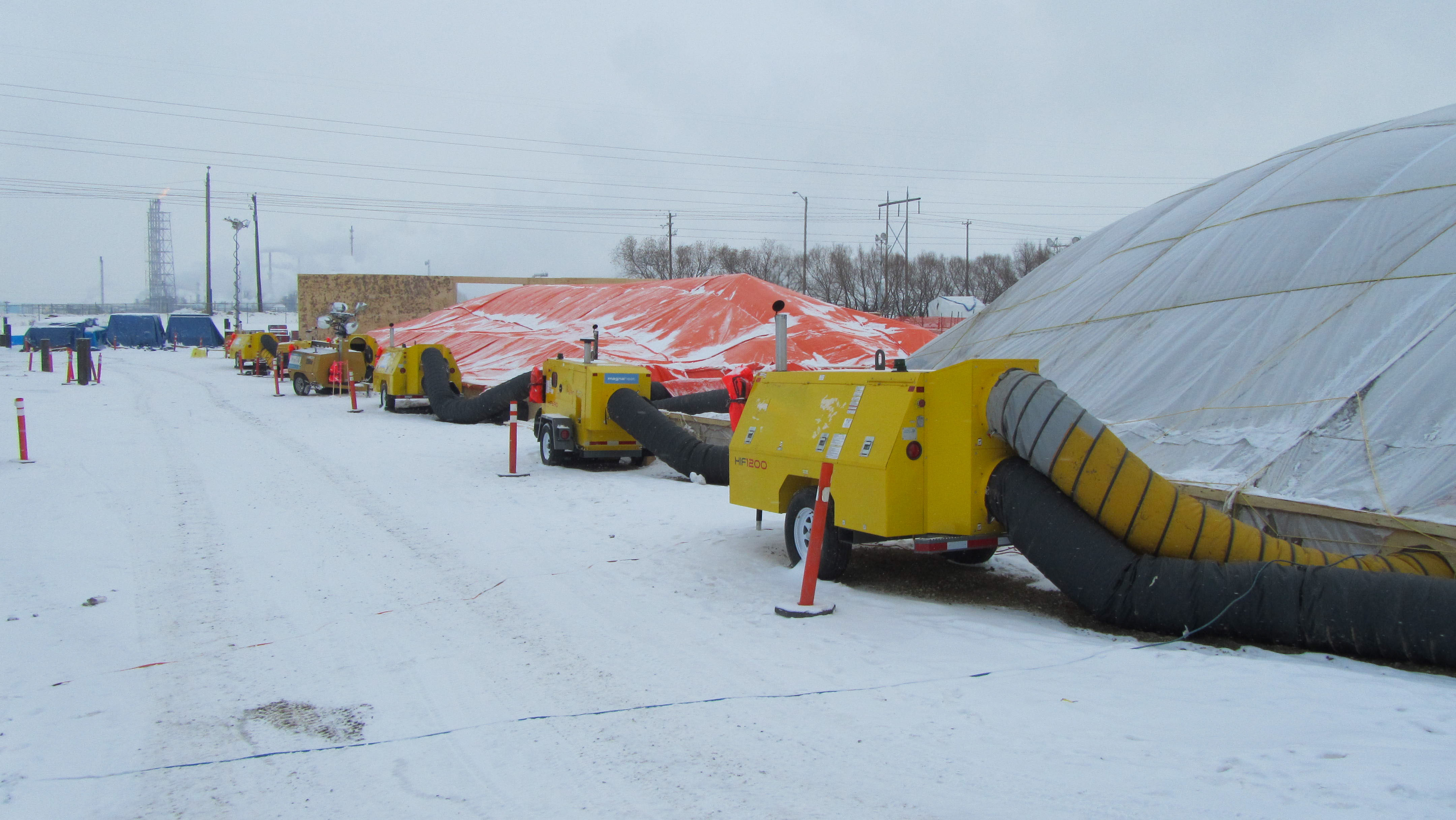 Advantages of Using Flameless Heaters for Industrial Jobsites
Working on large-scale, industrial jobsites in cold weather conditions requires a powerful heating system that works safely and effectively in harsh environments.
There are three different types of industrial heaters on the market for large-scale industrial projects: direct fired, indirect fired, or flameless heaters.
Direct fired heaters work with a burner that provides hot gasses, which then transfer heat energy to a process liquid or gas flowing directly through coils installed inside the heater vessel. The exhaust gas from this fuel combustion is expelled directly into the heated air. A major setback to direct-flamed heaters is the air pollution they emit.
Indirect fired heaters were created to contest the negative effects of direct fired heaters. Both direct and indirect fired heaters are based on the same traditional platform, but the exhaust of indirect fired heaters is vented to outside air instead of entering the heated air.
Although indirect fired heaters improve the quality of air in a space, the downside is a significant amount of heat is lost from the exhaust by venting to the outside. Another downside is that far more fuel is needed to deliver the same BTUs. This results in increased fuel costs and higher greenhouse gas emissions.
Flameless heaters are a great solution to issues with air pollution. Flameless heaters, true to their name, create heat without a flame, meaning the heater has a much lower risk of being a source of ignition for jobsite fires, making them ideal for volatile jobsite environments. There are also many other benefits that arise from the operation of flameless heaters.
Read on to learn more about the benefits of flameless heaters and how they work.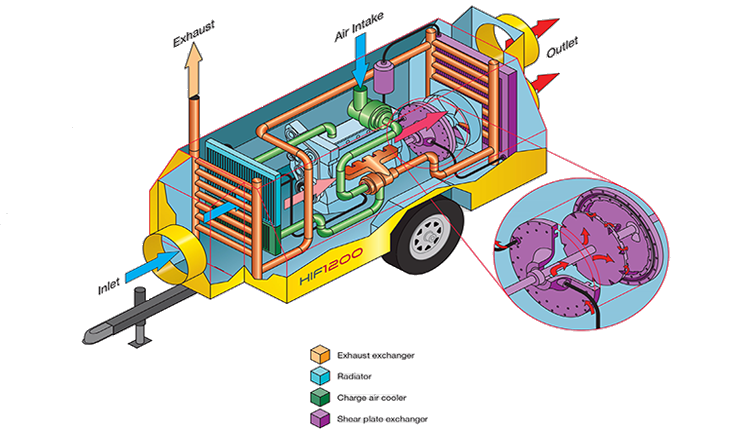 How does a flameless heater work?
A flameless heater operates by using diesel fuel to agitate hydraulic oil in a flameless, sparkless, low-pressure environment. The combustion in a flameless heater takes place entirely within the confines of the combustion chamber, similarly to a reciprocating piston engine.
Because the diesel turns into vapor before combustion, there are no fuel droplets to burn, only gaseous fuel. This is why the vapor inside the flameless heater burns cleanly and completely, resulting in low CO₂ emissions.
The many benefits of flameless heaters
Increased safety

One of the main benefits of flameless heaters is that they are ideal for potentially volatile applications where "no open flame" is a requirement. This includes industries such as oil and gas exploration, mining, construction and restoration industries.
Additionally, flameless heaters have a high temperature shutdown feature – where the heater shuts off automatically if the machine goes over a pre-specified temperature during regular operation. This feature reduces the likelihood of irreparable damage and equipment failure.

Powerful heat delivery
Flameless heaters are very powerful when it comes to heat delivery, which makes them a great solution for large projects due to the high number of BTUs they emit.
The run time of your flameless heater depends on the model you purchase – with the Wacker Neuson HIF1200 having a runtime of 23 hours, to the Wacker Neuson HIF600 having a runtime of 56.25 hours without refueling. This is a great perk for large-scale industrial jobsites that require continuous operations to meet project deadlines.
Maximize uptime
Designed for maximum uptime, the long run time of flameless heaters, along with annual hydraulic oil change and extended oil service intervals let you perform standard maintenance at your convenience with no jobsite interruptions.
Other benefits
Flameless heaters do not require as much monitoring onsite to ensure they are running properly.
The environmentally-friendly design of flameless heaters includes full spill containment on all on board fluids.
Flameless heaters also have large service access doors, making it easy and fast for maintenance technicians to access the heater's electrical and mechanical components and engine. Because portable flameless heaters are self contained and include a trailer hitch, they can be moved around to and from industrial jobsites easily.
Axiom Equipment Group's team has decades of combined experience in equipment rental, sales and service. Working with other internationally accredited organizations, we have the unique ability to provide on-demand products for sale and rent. With our large fleet of new, reliable, well-maintained site equipment, we can meet large project demands quickly and supply quality equipment for smaller projects cost-effectively.
At Axiom Equipment Group, we believe in ZERO DOWNTIME so much that we stand behind it with a unique iron clad promise that combines a reliable equipment fleet with a rapid response program, around-the-clock availability, expert service and a financing option to fit every budget. Gain peace of mind knowing that if your equipment breaks down, we have the inventory to repair and replace it on the fly!