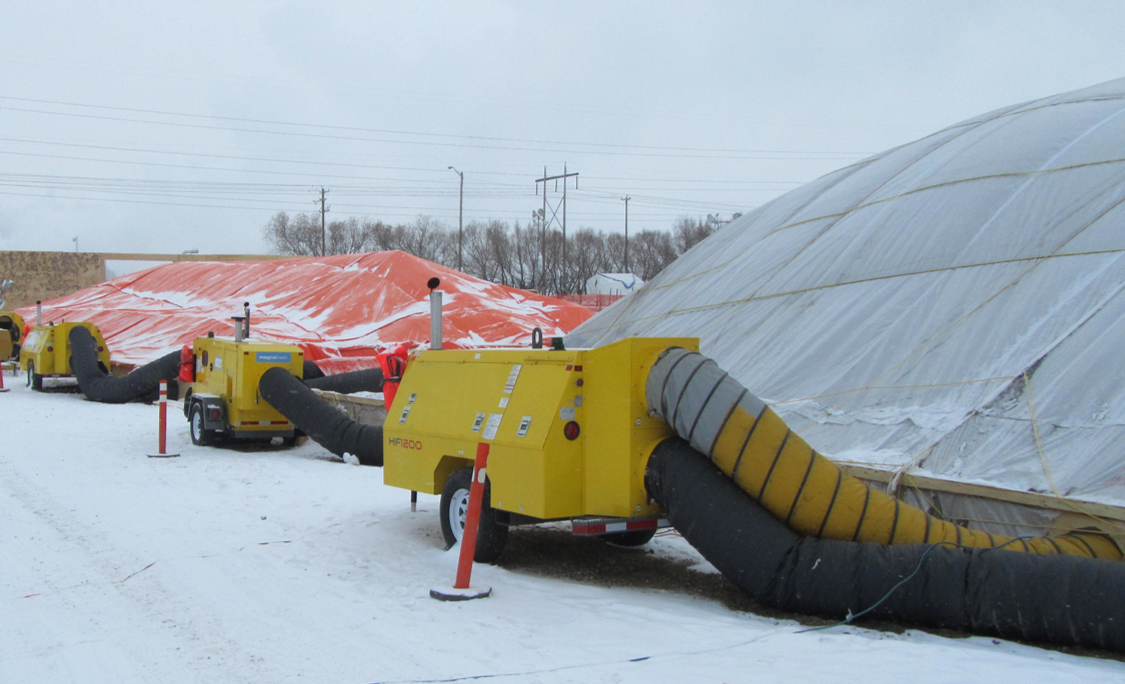 Heaters heat. That's a fact. BUT there are important aspects to consider before renting or purchasing an industrial heater system for your industrial job site or commercial or residential project.
So, this blog is about fit, function, and where to find industrial heaters for the tough Western Canadian winter season ahead.
To that end we created a list of qualifying questions that will help you determine requirements for your particular heater system. Answers to these questions will, in effect complete your specifications shopping list, allowing you to find the appropriate heater for your job in a matter of minutes, streamlining the equipment rental process for your organization.
Read on to find the best heaters to outfit your operation this winter.
INDUSTRIAL HEATER FIT
What type of heater will work for your project or at your location?
To determine heater fit, answer these questions:
Does it need to work in a remote environment?
Does it need to work in a "No Open Flame" environment?
Does it need to withstand inclement weather conditions?
Does it need to be mobile for frequent relocation?
Will it need to be delivered to your site?
How will it need to be fueled or powered?
If you can answer these questions in advance of engaging with any equipment sales or rental company you are ahead of the game. Industrial heater systems can be modified to fit your specifications, but it is good to know that there are a wide-range of systems available to fit different projects or locations right out of the box.
For example, when needing to provide safe heat with no chance of fume combustion or the ignition of flammable liquids Flameless Indirect-Fired Air Heaters, specifically the Wacker Neuson HI690 and the Wacker Neuson HI1200 are great options. They are designed to meet all no open flame requirements. Or perhaps you're working in rugged terrain, and uncomplicated transport and quick maneuverability are top priorities. The Wacker Neuson HI770 are designed with this in mind and are a good fit for difficult or remote locations.
INDUSTRIAL HEATER FUNCTION
What does your heater 'really' need to do at your job site or workplace?
To determine heater function, answer these questions:
1. Are you working below ground or pouring a foundation?
If heat is essential to keep your ground work going and prevent frost damage to a foundation during the winter, you need to be extremely thoughtful in selecting a heavy duty heater. Protecting concrete from frost damage at any project or job site is critical. Frost reduces the compressive strength, the bond strength, and decreases the water penetration resistance of concrete. Ensure the heater you choose to rent for your digging or building project can do one or all of the following:
Thaw ground
Prevent frost
Maintain normal concrete hydration
The Magnaheat E3000 is a system focused mainly on promoting ground work. It can assist with frost prevention to ensure heat issues are not the cause of any interruption in your winter operations.
2. Are you working with temperature sensitive materials on your jobsite?
If buildings, homes, or large structures are your thing, heating them through the winter in Saskatchewan, Manitoba, Alberta or British Columbia is also your thing. Cold weather can have severely negative impacts on your project, as cold can affect the stability, design and performance of a structure. The industrial heating system needed to heat structures must have flexible temperature controls in order to:
Ensure proper concrete curing
Create proper storage conditions for materials (e.g. drywall, electrical components, and lumber)
Avoid damage from frost or moisture
The Magnaheat Pureheat, provides temporary heat for large structures and buildings and removes excess moisture from the workspace.
3. Will it be used to create comfortable workplace conditions?
You take care of your equipment in order to ensure that it runs properly and efficiently when you need it. You probably would agree that keeping it warm and operational during the cold winter months is your top priority, in order to maintain productivity and to ensure your critical path is not disrupted, right? Then why not take this same approach when it comes to your employees?
Sure employees can, according to the Canadian Centre for Occupational Health and Safety;
Stay dry, stay active, take breaks, dress in layers of wind-resistant warm clothing, wear hats, insulated gloves, face masks, and insulated, waterproof footwear.
But you, like any responsible employer, will be certain to create a workplace wherein individuals can complete work and achieve results in safe and comfortable conditions.
This is especially important when building construction is scheduled through the winter months. If permanent heating solutions have not yet been installed, employee productivity in the cold becomes a concern.
If maintaining productive workplace conditions and a 'comfort zone' for employees is a top priority, a heater system like the Magnaheat MH1000, Wacker NeusonHI400HD, Allmand MH1000(Maxi-Heat), Wacker Neuson HI770XHD and the Flagro FVO1000TR are good options. These heaters use indirect combustion to ensure only clean, breathable air is entering the work area. The size of your building and your desired temperature will determine which indirect fired air heaters that you choose.
WHERE TO FIND INDUSTRIAL HEATERS
The decision to rent or purchase an industrial heater system is definitely an internal decision. Factors like budget, timing, and even the job site location can determine whether you temporarily rent a heating system or purchase one outright. Before doing either ask yourself these questions:
Is there a finance purchase option? The value of the unit is divided by 6, 8, or 12 months with a small interest fee.
Is there a rent buy-out program? A portion of your rental fee goes towards the purchase of the equipment.
Are standard rental agreements available? This is perfect if you don't want any hassle of servicing your own equipment and don't want assets.
Can I make a standard purchase for new?
Can I make a used?
Once you've answered all (or some) of these questions you should be in a great spot to quickly and easily rent or purchase a heater for winter weather in Westehttp://saskarc.com/equipment-group/used-equipment/rn Canada.
And, keep in mind that most equipment sales and rental companies will usually deliver systems directly to your site when you need them or if you're in a remote location, make standby equipment available to you! Rest assured that if your equipment goes down, backup will be only a few steps away from your job site.
So, whether you need a very specific or a very versatile heater system this winter, take advantage of our rental promotion on ALL heaters. Our promo includes:
FREE Freight (One-Way) on rentals over three (3) months
FREE Freight (Both Ways) on rentals over five (5) months
Standby equipment for remote locations.
Request your quote on a heater system because the freight is on us this Winter!